Have you heard of this site 350.org? They have started a campaign to spread the word that 350 is the most important number we humanoids need to know these days.
Scientists are now saying that, as a planet, we need to reduce the amount of carbon dioxide in the atmosphere to 350 parts per million (ppm) to be safe. As of November 2007, we were at 384 ppm. That's totally doable, right?
The folks over at 350.org are not asking that we rush out and solarize our houses or trade in our perfectly serviceable cars for hybrids - they just want people to know that number (350) and help them spread the word. That's so easy I might even be able to do it! They've also got cool badges for your website if you'd like to help get the word out.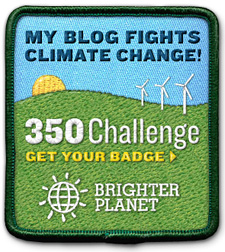 You'll see on their site that they are asking people to send in creative photos displaying the number 350 and if that's your kind I encourage you to participate. If you do, be sure to leave a comment to let us know how you are helping.
For my part, I just want to try to get 350 people to read this post. And guess what, if you've gotten this far, you've already done your part to get me there.
Thanks for helping!